Challenges
More information about the CTF and the Wargame to come, stay connected on twitter hashtag #ndh2k14 !
Bug Bounty
A bug bounty program on Qwant company will be reveal during the opening of the Nuit du Hack. This program will be exclusively saved to the Nuit du Hack participant and a wallet of 5000 euros will be assign to the program in order to pay bug hunters.

Bug Bounty rules: https://www.nuitduhack.com/en/bug-bounty-rules-nuit-du-hack

Public Wargame
This year again, there will be a public wargame in parallel with the ctf. You will be able to fight against other visitors by solving challenge during the night.
The wargame will have a particularity this year, it is no longer available in wireless but directly by ethernet cable.
We also recommend that you think provide switch, cable networks and eventually power strip in order to enjoy the game.


The prizes are :
- 1st prize: a dedicated server SP-128 OVH for one year
- 2nd prize: a VPS Cloud-3 OVH for one year
- 3rd prize : a ticket for NoSuchCon
Quals and Capture The Flag
The HZV team organized as each year a qualification round for its private Capture The Flag contest, which took place on April 5. During this qual round, contestants will have to solve a set of tasks and earn points to be part of the 10 top ranked teams that will be qualified for our finals.
Our CTF contest will be held from June 28 to June 29, in Disneyland Resort Paris's New York Hotel.
The CTF (Capture The Flag), is a private challenge developed by Sysdream. The 50 first challengers of the 10 international qualified teams among 300 of them in March are the one below:
1. Dragon Sector - Poland
2. pollypocket - Belgium
3. StratumAuhuur - Germany
4. dcua - Ukraine
5. 0x8F - United Kingdom
6. ENOCHEAT - France
7. w3stormz - France
8. Hexpresso - France
9. !SpamAndHex - Hungary
10. sec0d - France
The CTF will start in an annexe room from 9:00 pm to 7 am, so 10 hours of confrontation. There will be at the end the official Awards Ceremony of the Prize Money.
Just like every year, the team who will have the best score will win the CTF.
The prizes are :
- 1st prize : Cashgame of 5000€
- 2nd prize: 6 months of CTF365 and a ticket for Infiltrate
- 3rd prize: 3 months of CTF365
Sploit'n'Drink
The cloud is everywhere, pubs too. The Sploit'n'Drink is an elegant mix of both of these worlds.Come and sploit our cloud service at the Crash Party and try to get the flag.
Rules are simple :
On registration, you'll get the source code of the app. You have to write a working sploit displaying the flag on the first try.
If the sploit crashes : you drink
If the sploit is written in Java language : you drink (srsly, java?)
If the sploit doesn't display the flag : you drink
If the sploit require user input : you drink
You must be over 18
This challenge will allow you to answer this universal question : Does calva makes us more l33t ?
Alcohol abuse is bad for your health, please consume in moderation. Staff can test you with breath test at any time. Free breath test will be available for everyone at challenge.
The prizes are :
- 1st prize: a ticket for NoSuchCon
- 2nd prize: a MISC magazine subscription
- 3rd prize: a VPS classic-3 OVH for one year
DAVFI/Uhuru Mobile Hack Contest

ESIEA organizes a hacking challenge to assess DAVFI technology security (delivered to Nov'IT in October 2013 and sold under the brand Uhuru Mobile). The goal is to have a anlysis feedback by hackers on an operational solution (a real product and not a ROM deployed in a VM) as Uhuru Mobile customers will use it.

Ten phones as well as ad hoc infrastructure will be made available for analysis without any limitation.
More information here: https://www.nuitduhack.com/en/contest-DAVFI-Android-Uhuru-Mobile-nuit-du...
Lockpicking Contest
Participate throughout the night to our lockpicking challenge by crocheting padlocks and locks spread over several strategic points in the halls of the Nuit du Hack. Each successful opening will allow you to win gifts, prizes, goodies ... directly available at the NDH lockpick stand. There is something for everyone and all levels. beginners welcome !
Collector Badge
The NDH collector badge is a challenge by itself: you'd be able to assemble it during the event (the hardware hacking workshop'd be a great place to be if you need some help) and you'll may try to hack into its embedded secure system. The first one to break into it will be rewarded with a NDH Black Badge, a life pass to further Nuit du Hack events !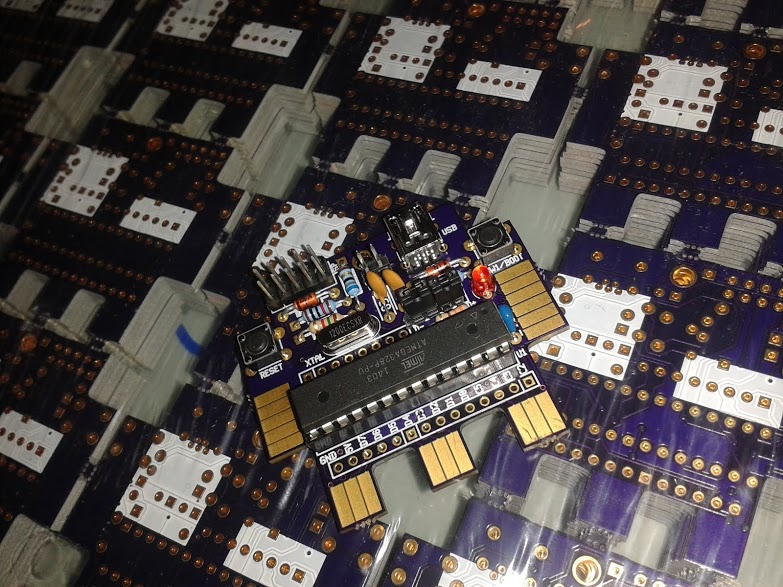 Winners will be announced and rewarded the 29th of June at 7am